The legendary Iowa Hawkeyes Wrestling Team are one of the most storied programs in college sports history. So it wasn't easy at all to create this top 10 list. This is just for fun so don't take it too seriously. Let me know how you would rank Iowa's top 10 guys in the comments.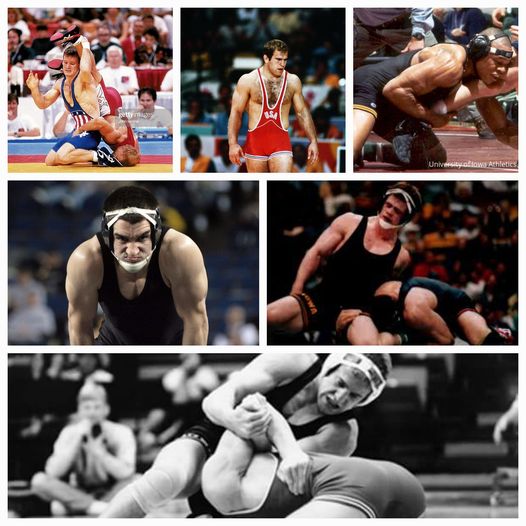 10 Royce Alger
Royce was a 3x Iowa state champion in high school as well as a 3x all-american in college. Alger won NCAA titles his junior and senior year at 158lbs, going undefeated in his final 78 matches. After graduating Alger became a 3x U.S. Open Champion and a two-time Pan American Gold Medalist. As well as a 2x World Cup Gold Medalist, and a 1990 World Silver Medalist. It's noteworthy to mention that Royce was also a 2x UFC veteran.
9 Lou Banach
Lou Banach won NCAA championships in 1981 and 1983. His overall collegiate record was 92-14-3. In 1984, Lou won a gold medal in Freestyle Wrestling in the 220-pound-weight class at the 1984 Summer Olympic Games in Los Angeles. He and his brother Ed became the first American twin wrestlers to win gold in the same Olympics.
8 Randy Lewis
Randy was a 3x South Dakota state champion in high school, and he also won the Junior World Freestyle Championship, before joining the Hawkeyes. At Iowa he was a 4x all american. Lewis reached the NCAA finals 3x and would of likely been a 3x NCAA champion, had it not been for a freak injury. As it was he finished his career a 2x NCAA champion. After college, he went on to represent the United States at the 1984 Olympics. Where he won the Gold Medal. His college record stands at 127-11 with 64 pins. He was also a 2x Pan American games gold medalist.
7 Terry Brands
Terry was a 3x all-american and 2x NCAA champion, winning titles in 1990 and 1992 at 126lbs.  He had a career record of 137-7 with the Hawkeyes. After graduating he was a two-time world freestyle champion at 58 kg, winning titles in 1993 and 1995. Terry also competed in the 2000 Olympics and won a bronze medal.
6 Jim Zalesky
Jim was a four-time All-American at Iowa from 1981 to 1984. He won the NCAA individual title in the 158 pound division in 1982, 1983, and 1984. He went undefeated his last two years, ending his college career with an 89 match winning streak. At the 1984 NCAA Championships he was named Most Outstanding Wrestler. Amateur Wrestling News named him "Wrestler of the Decade" for the 1980s. This occurred as part of a streak during which the University of Iowa wrestling team won seven consecutive national titles.
5 Joe Williams
Joe was a 4x IHSA  state champion at Mt. Carmel High School. At Iowa he was a 4x all-american, and 3x NCAA champion. He finished his college career with a 129-9 record. Joe's senior year he was a perfect 34-0, and was named the Most Outstanding Wrestler at the NCAA tournament. Between 1999 and 2007, Joe won 7 U.S. National Titles, as well as a bronze medal at the 2005 World Championships.
4 Barry Davis
Barry grew up in nearby Cedar Rapids and was a 3x state champion with a 102-6 career record in high school. His winning ways continued into college, as he became a 4x all-american, and 3x NCAA champion under legendary coach Dan Gable. In 4 years he compiled an incredible record of 162-9! His 162 wins is a school record that may never be broken. After college Barry competed internationally, and in 1984 he won an Olympic Silver Medal in Los Angeles.
3 Lincoln McIlravy
Lincoln arrived in Iowa in the fall of 1992, already a 5x South Dakota state champion. It didn't take long for him to prove himself on the college mats. Lincoln won his first NCAA title later that season as a true freshman. He followed that up again as a sophomore, before falling in the national finals his junior year to Steve Marinetti. Lincoln returned his senior year, defeating NCAA Champion Chris Bono in the finals to win his 3rd NCAA title. He ended his college career a 4x all-american with a record of 96-3. On the international stage Lincoln competed in two world championships as well as the 2000 Sydney Olympics, were he won a Bronze medal.
2 Ed Banach
When Ed showed up in the Iowa wrestling room, he and his brother Lou were often criticized for how hard they wrestled during practice. However, when that hard word turned into success on the mat most of the criticism stopped. By the time he had graduated Ed was a 4x all-american and a 3x NCAA champion. His career record of 141-9, sent him to the NCAA finals 4x. If that wasn't enough, Ed also holds the school record of 73 pins in his college career. After graduation, Ed represented the United States in the 1984 Olympics in Los Angeles. He and his brother Lou became the first American twin wrestlers to win gold in the same Olympics.
1 Tom Brands
Tom was as intense of a competitor, as anyone who had ever put on an Iowa singlet. Brands finished his college career with a 158-7 record, and was a 4x all-american!  Capping his career by winning 3 straight NCAA titles, and earning an outstanding wrestler award at the 1992 NCAA tournament. Upon graduation Tom continued to excel on the mat winning gold at the 93 World Championships, the 94, and 95, World Cup, he followed that up with a Gold medal at the 96 Olympic Games in Atlanta.
Honorable Mention: Mark Ironside 2x NCAA Champion, T.J. WIlliams highest winning percentage in school history, Spencer Lee 3x NCAA Champion. Joe Scarpello first 4x all-american at Iowa Chris Campbell 2x NCAA Champion. Brent Metcalf Hodge Winner, Duane Goldman, 4x NCAA finalist.