Step onto the meandering pathway that leads to your magical get-a-way… Enter through a cave like entry, and step foot into the Hobbit Cave! The Hobbit Cave is just one of the many amazing lodging options available at Eureka Springs Treehouses! Eureka Springs Treehouses is located at 3018 E Van Buren in Eureka Springs, Arkansas. For more information, click here.
As you round a corner you will be immersed in your first glimpse of the Grotto… Which happens to be a VERY ROMANTIC Jacuzzi for Two!
Continue on through rock formations and you enter the curved cavernous cavern to your main living area.
Magically you feel transported to a mystical cavern where a forest is beckoning through a wall of windows.
Meander out the door to your private courtyard and be immersed in a wall of singing nature with scampering squirrels and maybe a visiting deer.
Ahhh… after a day of experiencing all that Eureka Springs has to offer, returning to your Hobbit to enjoy the pulsating oasis of your Shower for 2, is sure to ease the two of you back into your very own romantic cocoon.
Pour a glass of wine or what have you and meander out onto your covered private courtyard and enjoy the sounds of nature while the two of you sway back and forth on a bench made just for you.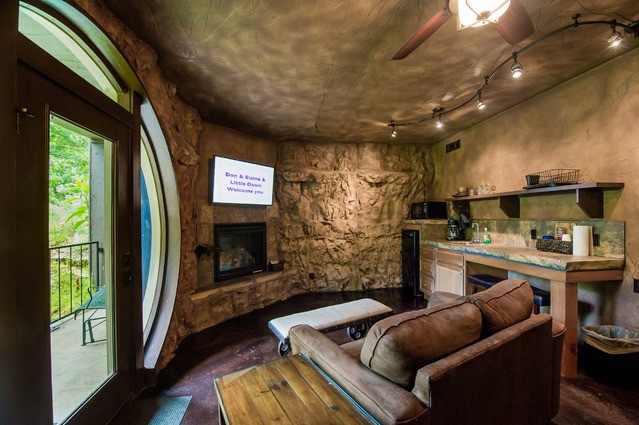 As twilight falls, snuggle in your King Bed and enjoy the ambiance of muted lighting that reflects off of your cave walls. Intrigue and a feeling of being in your very own cocoon is what the Hobbits are sure to bring. This is a magical place you will fall in love with and never want to leave! The Hobbit Cave is an Adult only destination.
For more of the best lodging and campgrounds in Arkansas, click here. For the best nearby parks and amazing locations, click here. For the best family activities in the area, click here.
There are THREE "Hobbit Caves"! Since there is a slight difference in exterior facades, the exterior picture is just an example of what to expect. Walkways will differ slightly for both of them, but the interiors are identical. Pictures used in this article are owned by Eureka Springs Treehouses.