Lake Okoboji is part of the Iowa's great lakes, and covers more then 3,847 acres.  The natural beauty of the lake makes it a popular destination for boating, water skiing, sailing, and swimming. The lake is also one of the most popular fishing destination in the state. There is literally so much to do on Lake Okoboji, I could write an entire book  just on this one location. Lake Okoboji is located in Dickinson County in Northwest Iowa. To plan the perfect Lake Okoboji vaction, click here.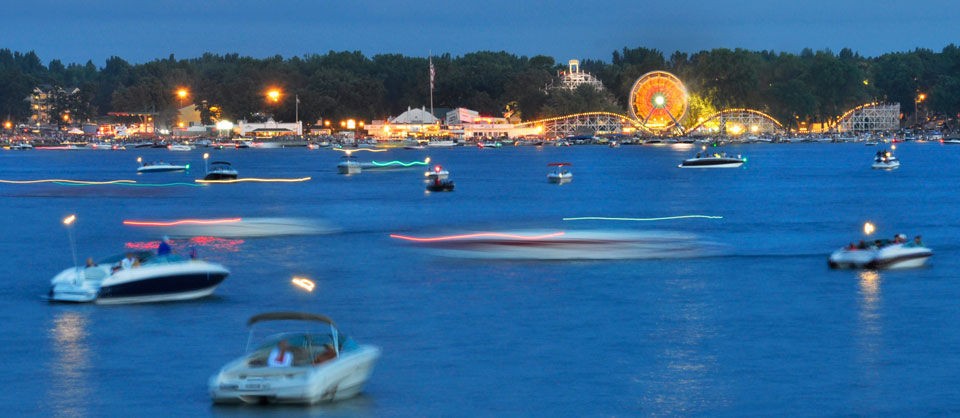 Arnold's Park is the center of the Iowa great lakes resort.  In 2012 the amusement park was selected as one of the fifteen best in the region by Midwest Living magazine.  There is a ride for everyone at Arnold's with a wide range of kid and family rides available.  The thrill seekers in your group will love the Legend, believed to be the 13th oldest wooden roller coaster in America.  Arnold's Park also has 2 different go- kart tracks known as the Raceway. There is also the Queen II cruise ship, which is a great way to view the lake in style.
Another attraction on Lake Okoboji is The Iowa Guide Service.  The Iowa guide Service is one of the most sought after fishing guide services in the entire region.  During your fishing trip, you will cruise the lake in the comfort of a Crestliner 2050 Raptor powered by Mercury 250 Optimax with Humminbird electronics.  They cater to both families on vacation, as well as the serious angler. Your fishing trip will be loaded with fun and you will have a great chance to catch big bass, walleye, pike, and maybe even a giant muskie.  For more information click here.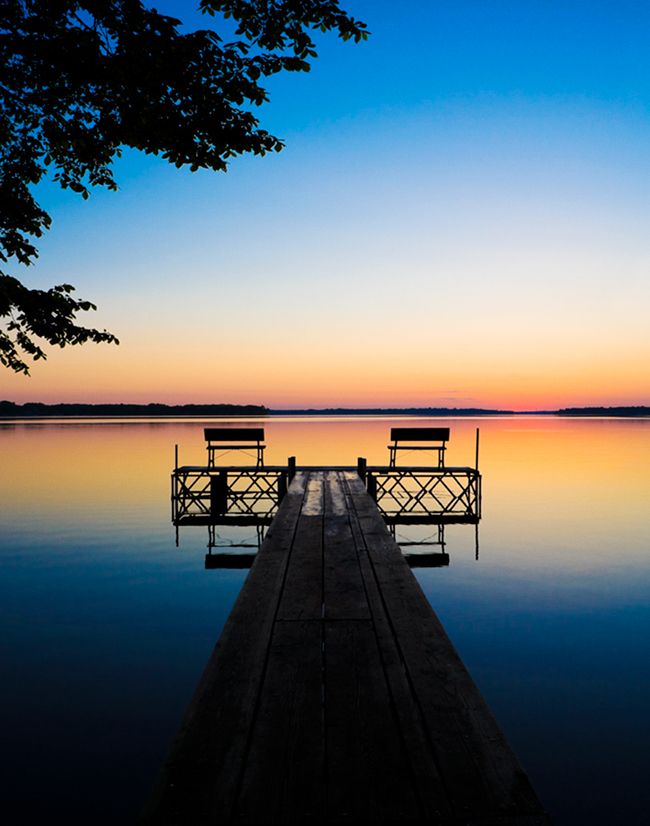 One of the best attractions on Lake Okoboji is the many options for recreational water sports.  There are several different outfitters in the area renting everything from pontoon boats to paddle boards.  So no matter how you choose to spend your time on the lake, your sure to have an amazing time!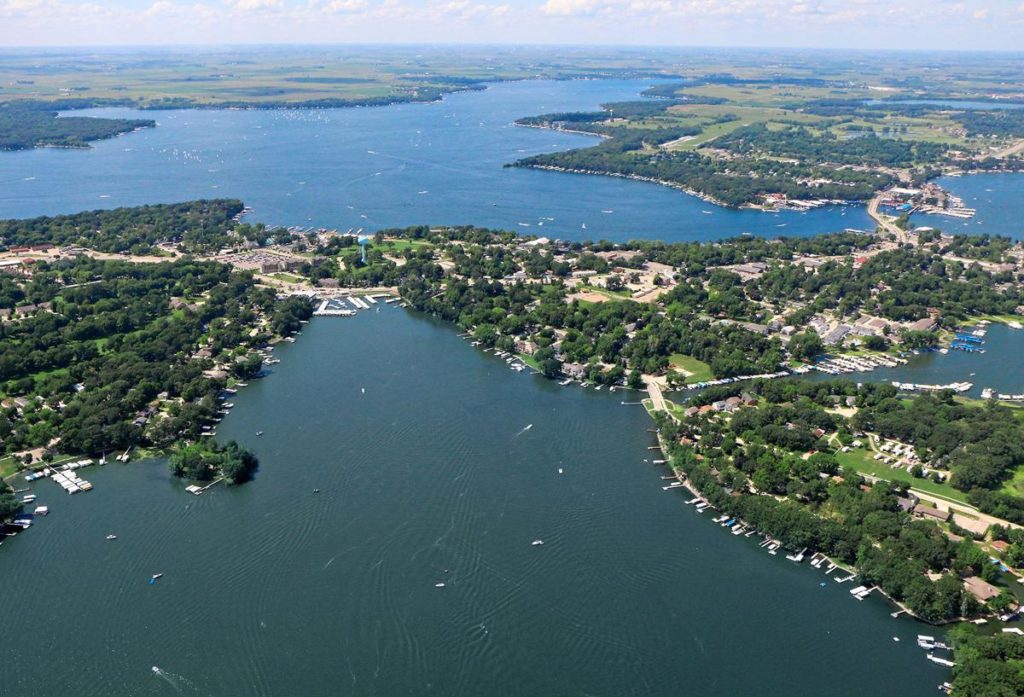 Don't Miss:   Play a round of golf at Pirate's Cove Miniature golf course.  Pirate's Cove is an award winning 18 hole mini golf experience that will provide fun for the whole family.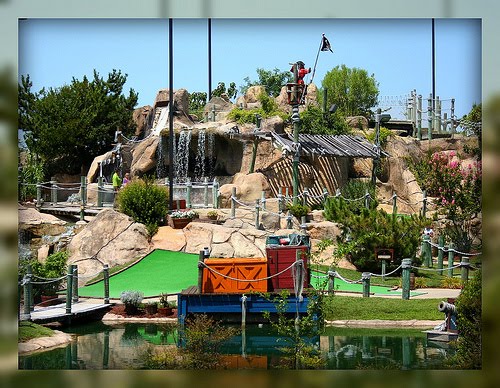 Logistics:  Lake Okoboji is located in Dickinson County in Northwest Iowa.
Best Time:  The summer months are a perfect time to visit the Iowa great lakes.
Pit Stop:  My favorite restaurant in the area is Kazarelli's at Millers Bay.  Weather your looking for delicious bar food or a gourmet meal, this is the place to go. Visit their website by clicking here.
Extended Play:  The Iowa guide service is now offering a Fish n Fun Family Pac. This awesome package includes 4 hours of Iowa's best fishing, and after a picnic lunch, 4 hours of water sports! Take your pick between tubing, skiing, and wakeboarding.  For more information click here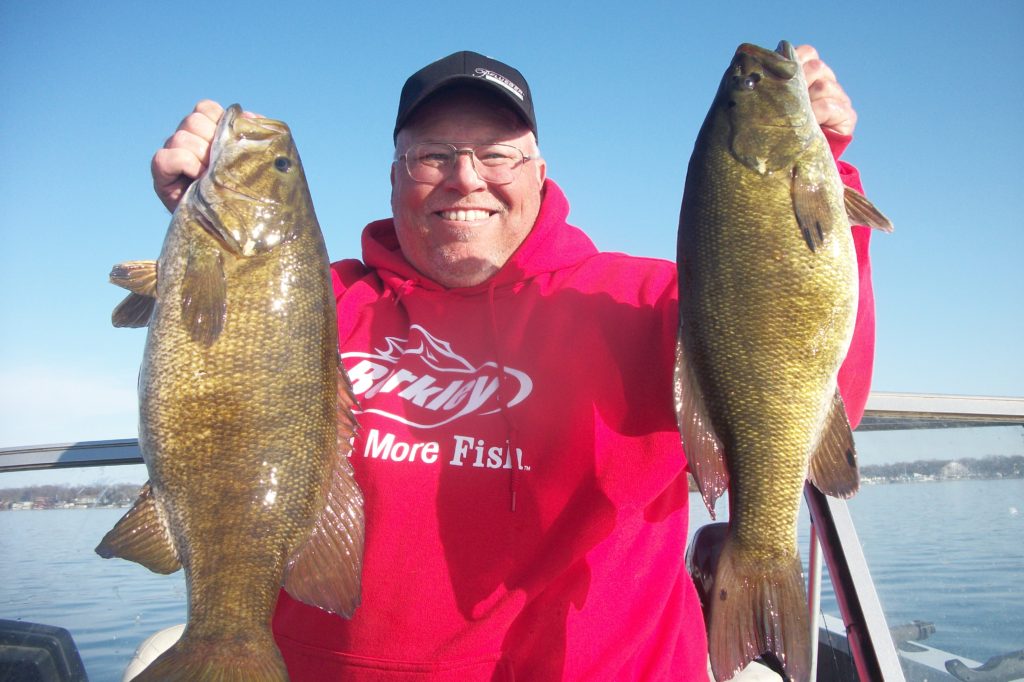 Travel Smart:  Lake Okoboji is one of the most visited locations in the state, for a more personal experience plan your visit on a weekday, and avoid visiting on holiday weekends. To plan the perfect Okoboji vacation, click here.
For more of the best lodging options in Iowa, click here. For the best parks and locations in the area, click here. For a list of the best family activities, click here.