With summer coming to an end, I decided it was time to replace some of my adventure gear.  My sleeping bag was getting pretty thin and the zipper was sticking.  The same was true with my hammock, and my dry sack had stopped keeping my gear dry. I had gotten a lot of miles out of this gear and we had shared some amazing times.  From whitewater rafting in the north-woods, to backpacking across Shawnee National Forest.  My gear has been put thru the ringer, and it was time to move on to something new.  Getting rid of gear has never been easy for me, but replacing it is always fun.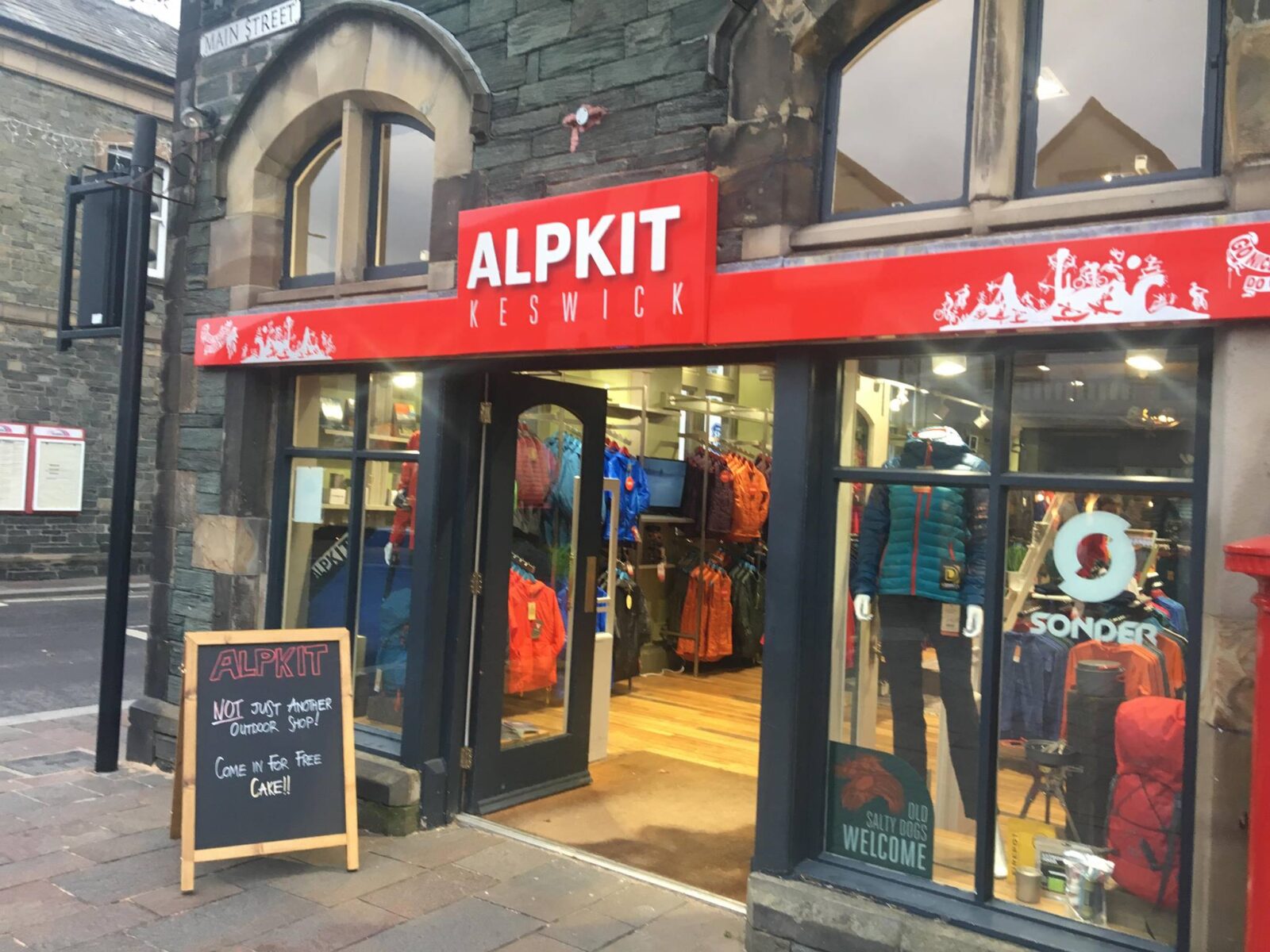 Recently I had found this company online called Alpkit.  Right away one thing about this company really stuck out.  Just like me, they didn't seem to really specialize in any one activity, but instead offered products for a wide range of outdoor adventures.  A one stop shop if you will. On their site I found an assortment of  outdoor clothing for both men and women, camping equipment, including tents, tarps, and packs, as well as  wet-suits, trekking poles, and even mountain bikes.

After much consideration i decided to try out the Mountain Ghost 300 sleeping bag,  the Airlok 24L dry sack, and a Mora Hammock.  All three products where designed, manufactured, and shipped from  Alpkit, a small company  located in the United Kingdom.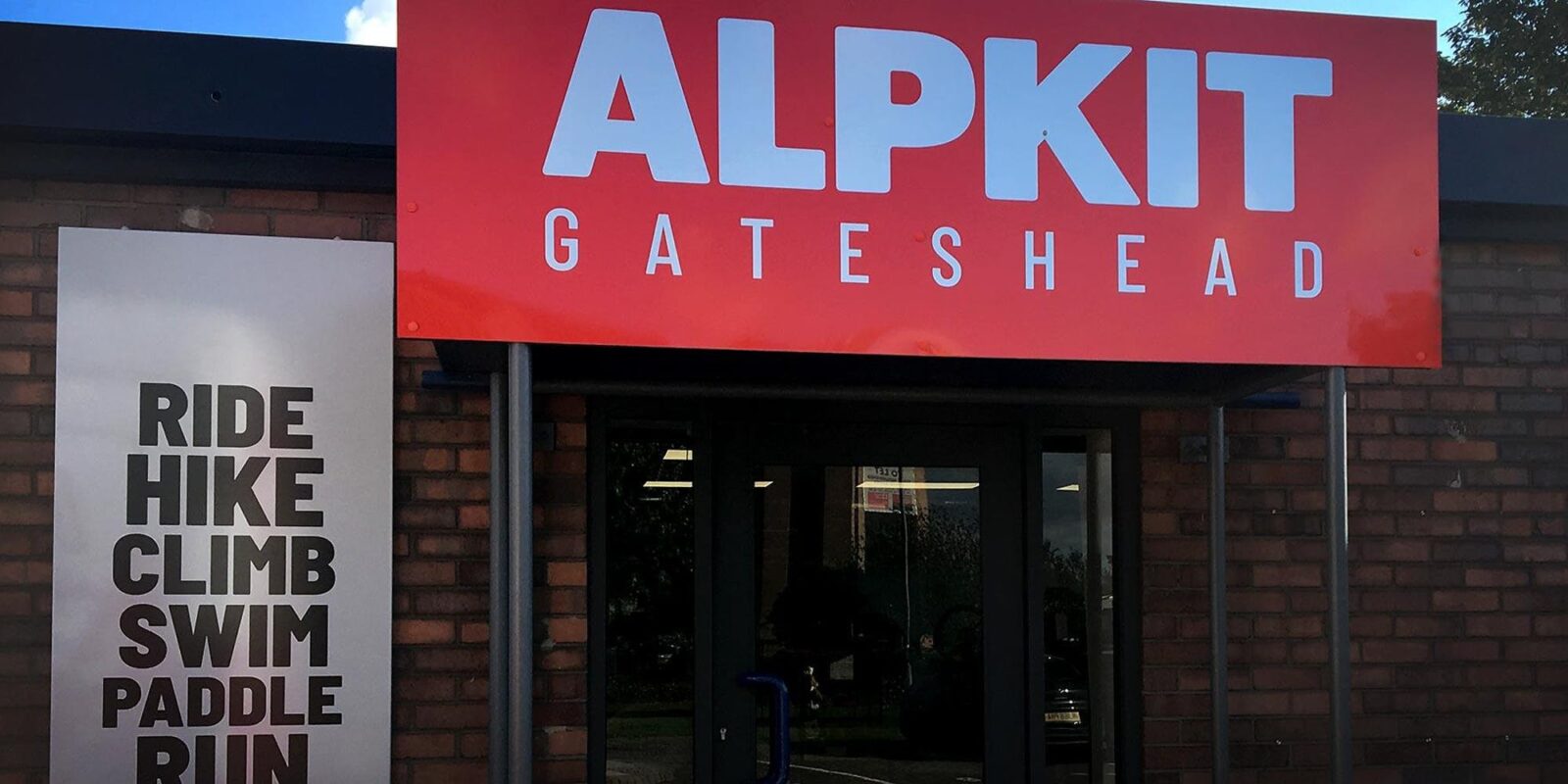 Mountain Ghost 300 Sleeping Bag:  The Mountain Ghost 300, is perfectly suited for 3 season adventures, and is rated for use in temps as low as 23 degrees Fahrenheit, or -5 degrees Celsius.  The bag is constructed from a soft rip-stop polyester that feels great against your skin and more comfortable then nylon in warm weather.  Another feature I really liked is the Primaloft Silver Insulation, this is a synthetic fibre which create millions of tiny air pockets to trap body heat. It uses water-repellent finish to improve performance in extreme conditions, maintaining its thermal properties even when wet, this allows the bag to maintain some of its insulating ability when damp.  This will give you greater comfort in sustained damp conditions and it will dry more quickly.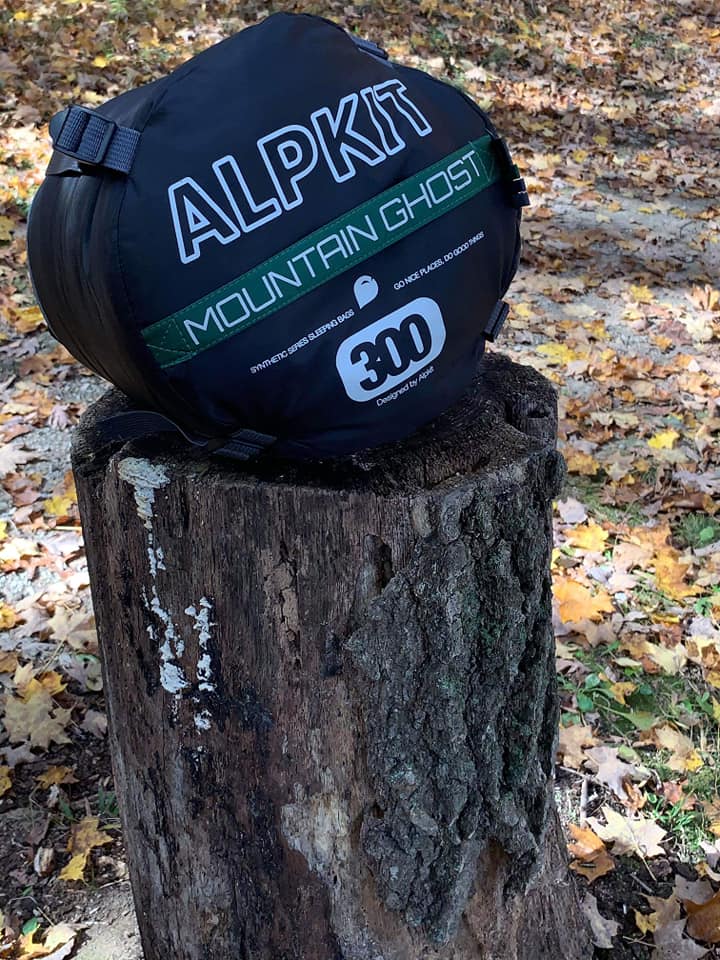 The sleeping bag is also equipped with a full length zipper.  The zipper is protected by a baffle with an anti-snag strip.  The simple stitch-thru construction and roomy chest girth make it a very practical bag for year-round use in all but the harshest weathers.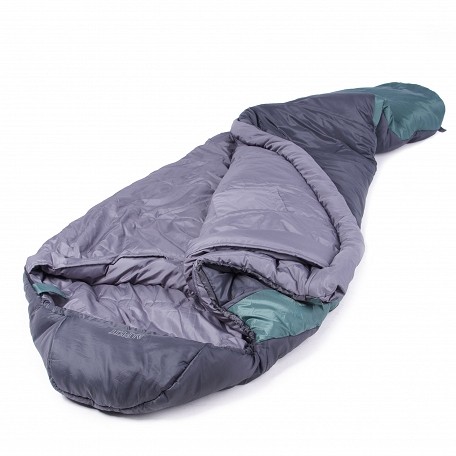 To test the sleeping bag, I took it on a three day backpacking trip thru the rugged Ozark Mountains.  At night the temps dropped as low as 41 degrees Fahrenheit.  During my adventure it never rained, however there was dew on the ground every morning, but I stayed warm and dry, and the sleeping bag fit nicely into my hammock.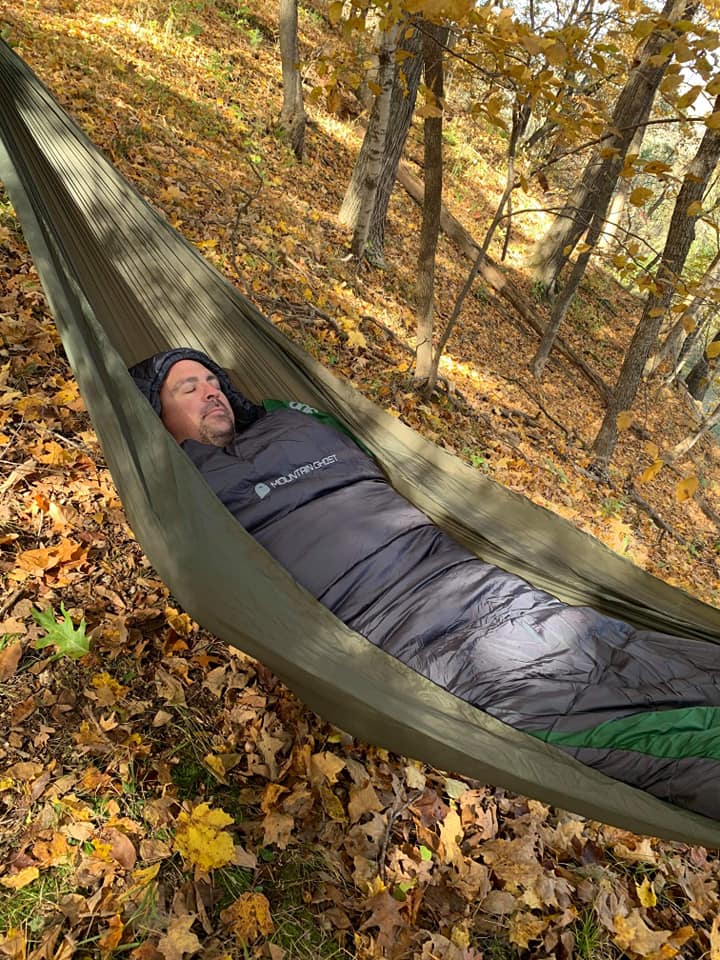 After returning home, I wanted to further test the water repellent properties of the bag.  I decided I would stuff if full of paper towels and hang it from the clothes line with the sprinklers turned on.  I left it out there for 4 hours.  At the conclusion of this testing I found some of the paper towels to be damp, none of them were soaked, but most impressive was how quickly it dried.  Within an hour the bag was dry and ready to use again.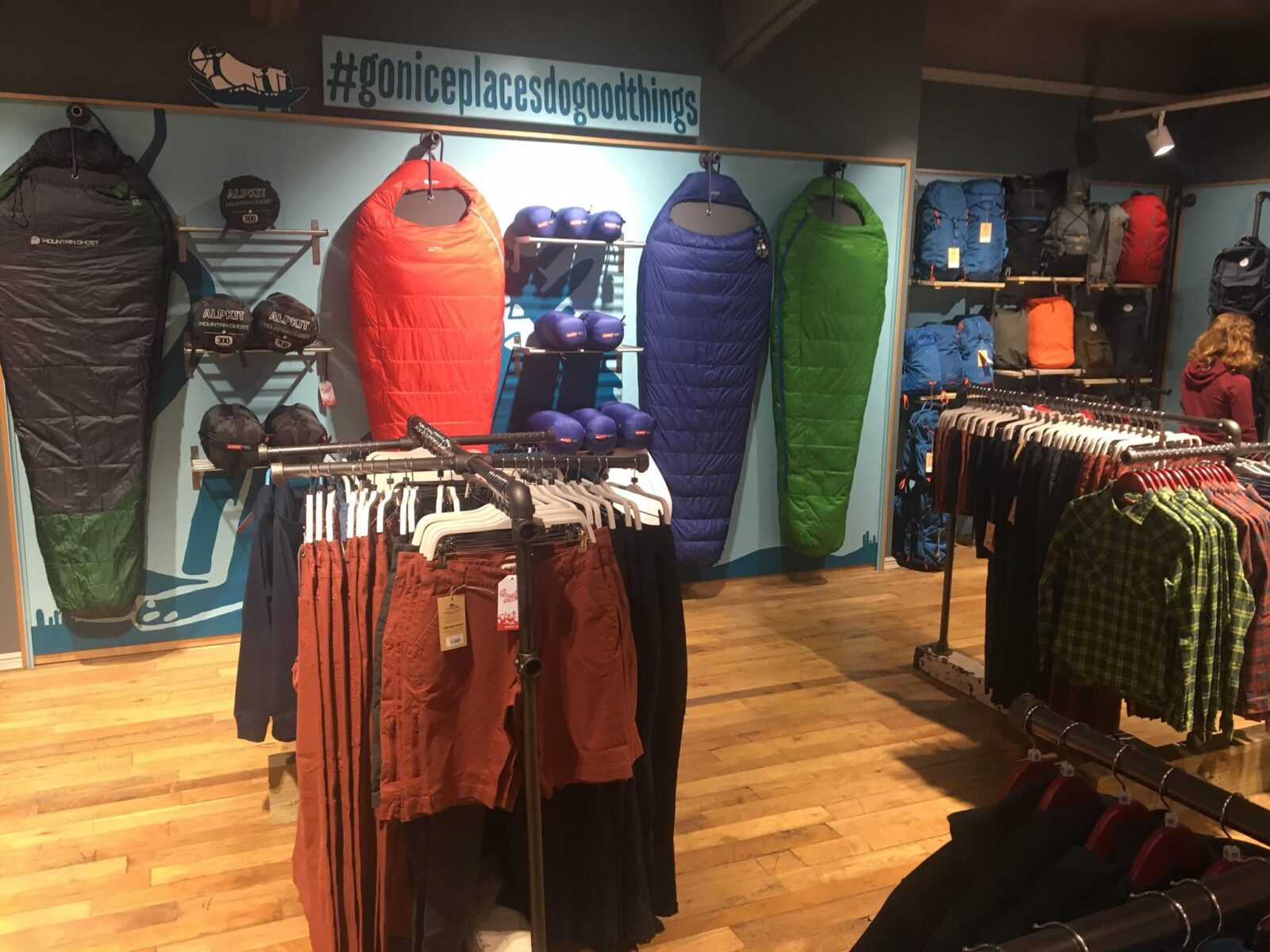 The bag weighs in at just over 3 lbs, and seems to be perfect for my backpacking needs. Overall I was impressed with the function , comfort, and quality of this sleeping bag.  The sleeping bag is sold for a very fair price of $99.99.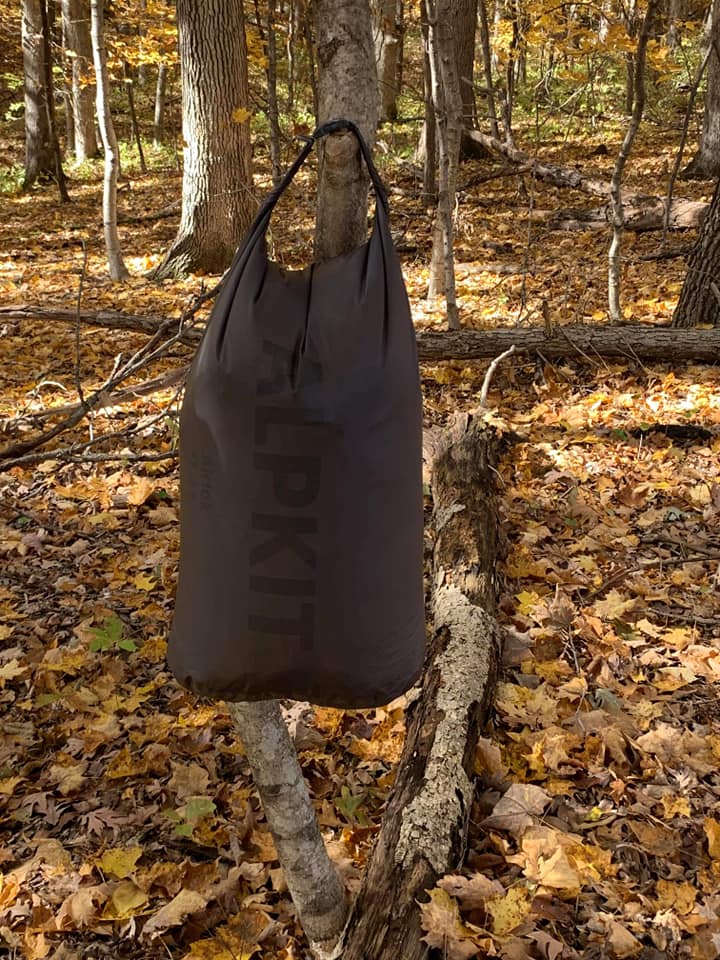 Airlok24L Dry Pack: I took the dry pack with on my trip, but never needed to use it, as it was pretty dry the entire time.  So to fully test the bag I decided to put it thru a series of tests. For the first test,I filled the bag full of paper towels, and set in in the shower with water spraying on it directly for 15 minutes.  For the second test, I filled my kitchen sink full of water, this time I put some extra weight in the pack to see if it could float. I threw in a tennis shoe a set of keys and a Nirvana T shirt , and let it soak over night.  The dry pack passed both of these tests with flying colors, keeping everything dry inside and continuing to float over night..  For my third test, I soaked a towel with water, turned the pack inside out and filled the pack with the wet towel.  I than let it sit for a few hours on my couch.  At the conclusion of this test, my couch was still dry.  For the final experiment I submerged the pack underwater for 5 minutes, stuffed with paper towels, at the conclusion a couple of the paper towels had become damp.  Not wet but damp. I considered operator error was the cause, as the pack had cruised thru my other tests without problem.  So I dried the pack thoroughly inside and out and performed the experiment again.  Once again a few of the paper towels were a little damp.  I asked my partner to perform the test again the next day and once again the same result.  Now this is not to say that the pack is flawed or doesn't do its job.  In 3 of the 4 tests I put it thru, it performed perfectly, and even in the final test it did a great job in an extreme test situation.  I can't say the Dry Pack is 100% water proof under all conditions, but I can say it does a fantastic job in normal situations and would likely keep you gear perfectly dry in a down pour.  The Airlok24L Dry Pack sells on their website for a very affordable $14.99.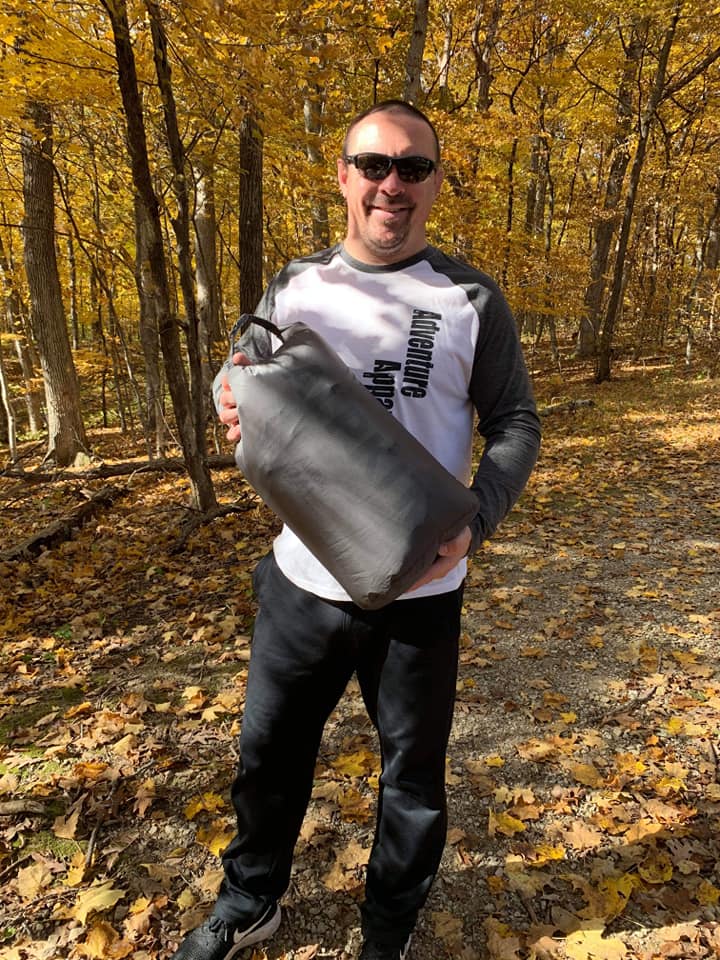 Mora Hammock: This hammock is light, compact, comfy and easy to hang. You can sleep under the stars in mild weather or pair it with a tarp for a 3-season setup for a more comfortable sleeping experience than a tent.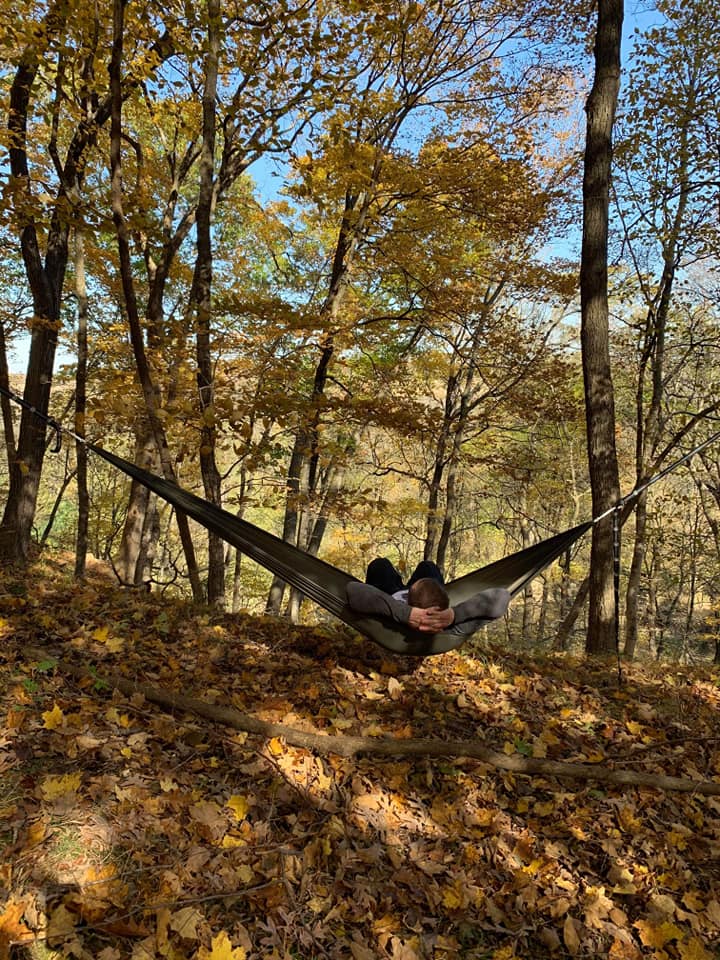 The Mora includes a simple but effective suspension system for minimal faffing when you're setting up and taking down. Simply wrap the tree straps, thread them through the loop and clip to the provided karabiners.  It doesn't get any easier than that, I literally took the hammock out of the package, and was relaxing in it within 3 minutes, that's how easy this was to set up.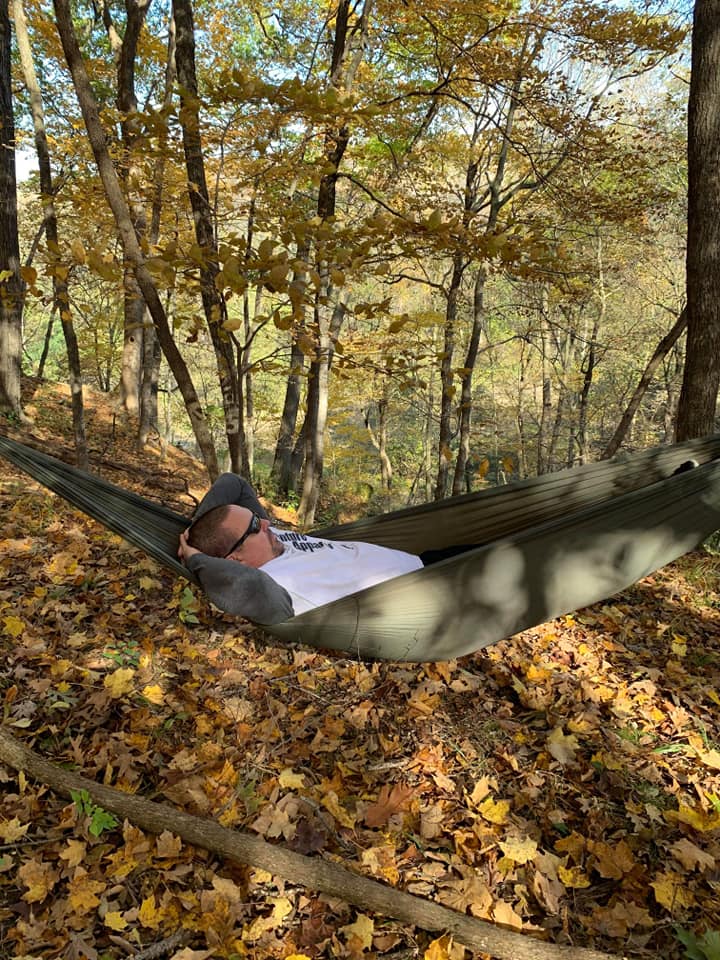 There is 3 ways to best describe this hammock. Easy to use, lightweight, and comfortable.

Overall my experience with ALPKIT was  a positive one.  I was really impressed with the variety of products available.  The items I used performed almost perfectly. Everything I looked at was very fairly priced, and the customer service I received was outstanding as well.  This won't be the last time I trust ALPKIT for my outfitting needs.  For more information on this company, visit their website by clicking here.