There are several things to consider when choosing a hammock. Set up, comfort, cost, size, durability, and convenience to carry on a hike are all things that come to mind.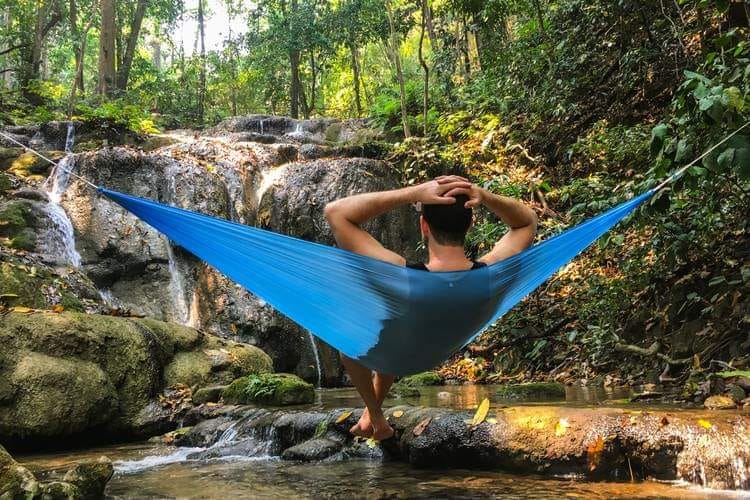 I just recently purchased a Kootek brand hammock off of Amazon, and I was excited to get outdoors and set it up. While I love relaxing in the forest and spending time outdoors, I also enjoy trying out products and brands I'm not familiar with. Kootek is a brand that has been around since 2013, this brand makes stylish gear that boosts your gaming experience; fantastic kitchen utensils that make cooking enjoyable; sports and other life-hack equipment that make life easier. Basically a wide variety of everyday products, and from what I've experienced their prices are very fair.
The hammock arrived very quickly within 2 and a half days of ordering. I wasn't really in a hurry for it to arrive, but I was certainly impressed with the quick delivery time.
So as I mentioned above there are 6 things most important when you purchase a hammock. Lets take a closer look and see how this hammock holds up.
Set up: Setup was extremely simple, and everything you needed was included with the hammock. (except for the trees) Once I found two trees suitable for relaxing under, set up took about a minute. When I was ready to get up and continue my hike, tear down was equally simple and took about 90 seconds.
Comfort: There are a couple ways to adjust the hammock to make it more comfortable depending on your personal preference. That comes in handy as some people enjoy being more upright and others like to be closer to flat. I have always enjoyed laying in hammocks, and this one was just as comfortable as I had remembered.
Cost: This hammock sells online for $28.99. In 2022 I feel this price is very reasonable.
Size: I purchased what is considered a double. This hammock holds up to 500 lbs, and is 118"L X 78"W. The double is made to accommodate 2 adults. Today I was the only one using the hammock and I felt that it had plenty of room. However the way hammocks rest, when strung between two trees, I feel you would be squished together if you had two in at the same time.
Durability: So far I have only used the hammock once, so this is not a very good test of durability. However it is made of 210T parachute fabric material, has excellent antifraying, anti-tearing, and dirt resistance. Easy to clean and dries quickly after being wet. I feel that unless its abused, it should be quite durable.
Carryibility: The hammock is super lightweight, and can be folded into a carryable  sack. It also fits easily into most backpacks.
Overall, I would say this is a quality hammock at a fair price. To learn more about the Kootek brand, click here.