If you ever need a little motivation to lace up your boots and go for a hike, here are 14 trails in Illinois that will provide all the motivation you need.  All these paths take you to unexpected wonders that will blow your mind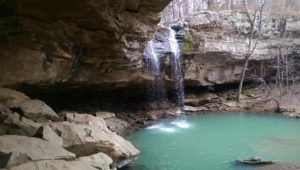 Devil's Prop Nature Preserve:  Located near Mount Vernon, this hike leads to a cave that is very unique.  Hikers take an easy 1.8-mile trek through Devil's Prop Nature Preserve to see this natural formation.
Hawk's Cave Trails: This trail is just .7 miles and is one of the easiest trails to hike at Ferne Clyffe near Goreville. Along the way, you'll pass wild flowers and wildlife as well as an impressive rock formation you won't want to miss.
Panther Den Loop:  A 3.1-mile path through Panther Den Wilderness will take you past some amazing  rock formations riddled with caverns and canyons. As far as cave trails go, this is one of the best loop hikes in the state.
Salt Lick Point Trail:Part of the 600-acre Salt Lick Point Land and Water Reserve, this is one of the coolest cave trails in Illinois. You'll find the cave along a 2.9-mile loop path near Valmeyer. Be sure to allow for extra time on this hike, there is so much to explore you could stay all day.
Sentinel, Sunset, and Pine Trail:  Part of the Mississippi Palisades, this gorgeous  area is located near Savanna, and is one of the most photographed areas in the entire state.  The 3.2-mile loop trail takes hikers by the river, rock formations, and other scenic natural wonders that are all sure to stir your imagination.
Rock Cave Nature Preserve:  The trail at this preserve is 1.3 miles long and leads to a tiny little-known cave. Located near Altamont, the paths here are not well-marked and can often be muddy and overgrown. Bring good hiking shoes.
Sand Cave:  Located near Ozark, this short hike is just 1.2 miles and is easily accessible for hikers of all ages. You can even have dogs and horses on this path of mind-blowing rock formations.
Saint Louis Canyon Trail: This trail system leads you to a waterfall, inside a beautiful canyon that is like something out of a fairy tale. It is located near  Utica and covers 2.1 miles of Starved Rock State Park.
Rim Rock Recreational Trail:  This is a  moderately difficult, 1.7-mile hike on this loop trail through the Shawnee National Forest leads around a huge rock formation and then descends to the valley floor. This is where hikers squeeze through "Fat Man's Misery," a steep decline past an old Indian wall that is very narrow but fun to see amongst the trees and bushes.
Bork Falls:  Tucked away in the Shawnee National Forest, there is a trail leading to what might be the most beautiful waterfall in Illinois. It is part of the Illinois Ozarks and is a year round waterfall that pools into a swimming hole. Near the Ohio River, visitors can also enjoy the many  rock formations, towering trees, caves, and other seasonal waterfalls in the area.
Jackson Falls:  You wouldn't expect Illinois to have so many, but waterfalls are a big part of what make it great. Nestled in the Shawnee National Forest, a five-mile trail with easy terrain leads to this beautifulwaterfall. Visitors are blown away by the stunning rock formations which water travels through and are also great for climbing.
Cave-in-Rock State Park:  One of the most interesting attractions in Illinois is along the Ohio River. This cave was once used by bandits and pirates but is today enjoyed by nature lovers from all over the Midwest. The rock formation opens 55 feet at its widest, and visitors can explore all over the cave.
Ferne Clyffe State Park:  Southern Illinois is full of amazing  wonders and this park is no exception. The waterfall here doubles as a water slide due to the way the rocks lay as well as due to water smoothing them over many years. Rushing water falls down a hillside, and you just jump right in. Beware, though, that it can be very dangerous, but many do it anyway.
Pomona Natural Bridge:  Found in the Shawnee National Forest, along a .3-mile trail is a bridge formed  from rock and natural erosion. At eight feet wide, it is safe to walk on, and the surrounding terrain is easy to explore. An additional attraction is a tiny cave located beneath the 90-foot bridge that is fun for the imagination of young and old alike.