Some people may not realize it, but the Midwest is packed with caves.  In fact Missouri is known as the cave state, due to the numerous caves found throughout.  Just about every state in the Midwest has a cave or two.   Some are wild, like the ones found in Maquoketa Caves State park in Iowa.  Others have been commercialized and turned into tourist attractions.   In this article we will take a look at some of our favorite show caves around the Midwest.
Iowa
Crystal Lake Cave: Located 5 miles south of Dubuque, Iowa, near the Illinois and Wisconsin borders.  What makes this cave so special, is not just the number of pristine crystal formations, but the quality of these formations. The beauty of this cave is unequaled in Iowa, and just about everywhere else.   Cave tours take about 45 minutes, and consist of a 3/4 mile walk through flat, lit, paved passages.   In 2016 they also started offering Wild cave tours, for the more adventurous cave enthusiasts.  These tours are an hour and a half long, and consist of exploring the uncharted passages of the cave.   Crystal Lake Cave also has a gift shop and Mining Sluice, as well as a picnic area. Mention Mainstream Adventures and receive a free flash light!  For more information call 563 556-6451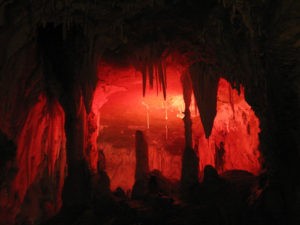 Spook Cave: Located in McGregor Iowa, the Spook Cave campground is one of the most sought after campsites in all of Iowa.  After taking a visit it's easy to see why.  This campground has its own beautiful waterfall, a lake for swimming, beautiful cabins,and don't forget the cave tours.  Cave tours depart every half hour and take about 45 minutes.  All tours are done by boat. The cave was discovered in 1953 and opened for business in 1955. For more information call 563 873-2144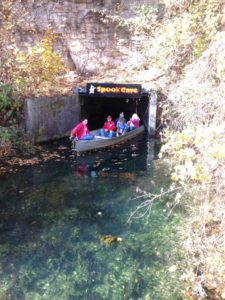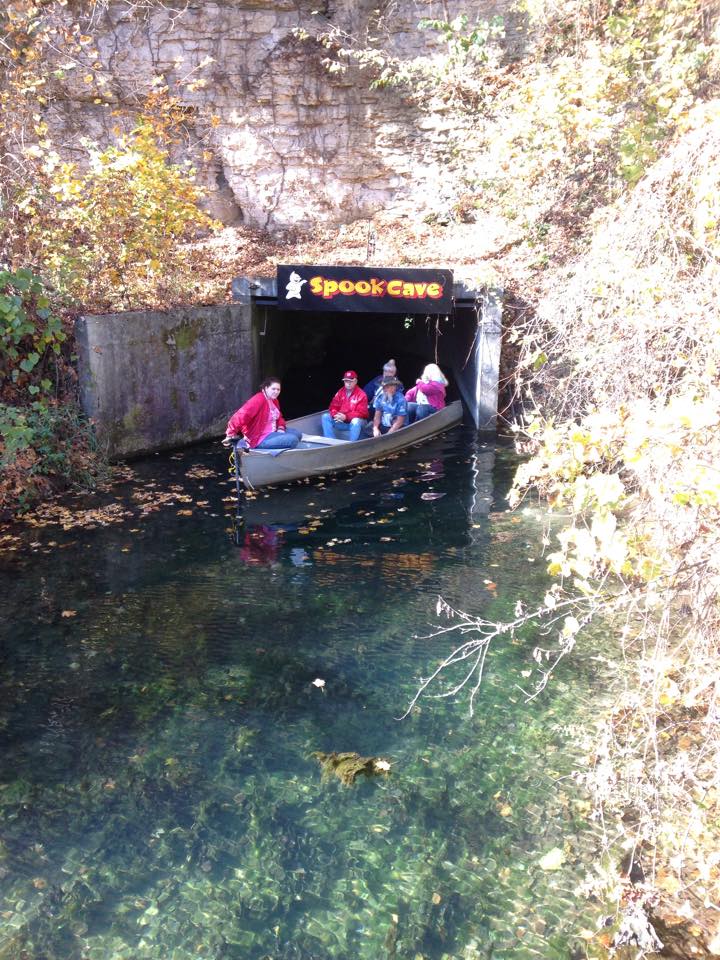 Minnesota
Niagara Cave: Located on Minnesota's southern border in the town of Harmony.  This geological marvel was discovered in 1924, and opened to the public in 1934.  Consistently rated as one of the top 10 show caves in North America, people travel from all 50 states and over 100 different countries to take the hour long guided tour through the cave. The tour has been described as an educational adventure in nature that you won't want to miss!  The Niagara Cave is one of the most unique geological locations in the state featuring 100-foot high ceilings and 450 million year old fossils, but the highlight of the tour is the 60 foot waterfall.  For more information call 507 886-6606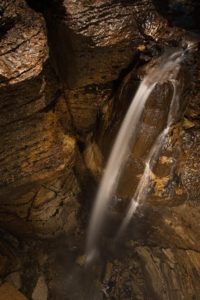 Wisconsin
Cave of the Mounds: discovered in 1939 in Blue Mounds, Wisconsin.  Often referred to as the jewel box of American show caves. Cave of the Mounds has been offering guided tours for over 75 years, and in 1988 the cave was designated a National Natural Landmark by the United States Department of the Interior and the National Park Service.   Guided tours of this underground wonderland last one hour, and take place on flat, paved, lit, walkways.   The tour will take you past an amazing array of crystal formations, stalactites, stalagmites, and columns.  They also have a fossil dig, butterfly garden, and gift shop.  For more information call 608 437-3038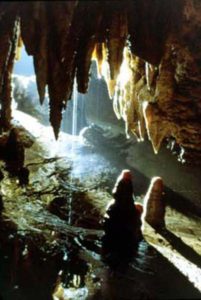 Indiana
Marengo Cave: Located in Marengo Indiana, this lesser known of the Midwest show caves sure packs a mighty punch with 6 different cave tours available.  Regardless of which tour you choose your sure to have an amazing experience.  This cave features several different types of mineral formations  from Helictites  to soda straws, from Stalactites, to  Cave Popcorn.  This cave really has it all.  Discovered in 1883, by children using only candles to navigate all the underground twists and turns.  Since that time Marengo Cave has had more then 3 million visitors explore its passageways.   For more information call 888 702-2837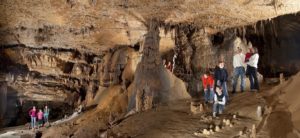 Missouri
Fantastic Caverns: Discovered in 1862 by an Ozark farmer just northwest of Springfield, MO., is one of more than 5,600 known caves that dot the Missouri landscape, and more are still being discovered. Of these, just 18 are open to visitors — and only one offers a riding tour.   Today's riding tour tells a  story. Along the roomy, brightly lit passageways, visitors can see thousands of speleothems — cave formations that include stalactites and stalagmites, tiny soda straws, cave pearls, massive columns and flow-stones, thin and delicate draperies and more. These distinctive formations, each one like no other, and all created by water a drop at a time. Cave tours last about an hour and have a year round temperature of 60 degrees.  For more information call 417 833-2010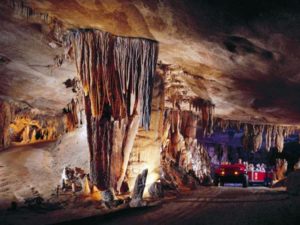 Meramec Cavern:  Located in Stanton Missouri.  Beneath the fertile rolling hills of the Meramec Valley, lies a complex of mineral formations and color as rare and unique as they are beautiful. These precious underground jewels, which took thousands of years to grow, are preserved in the spectacular sights of Meramec Caverns.  Guided tours by trained rangers are conducted along well-lit walkways. Learn how the ancient Wine Table (World's rarest cave structure) was formed completely under water. The entire cave complex stretches upwards past the height of a 7-story building and extraordinary formations can be seen throughout.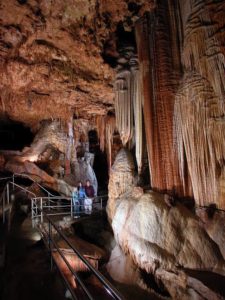 Kentucky
Lost River Cave:  The Cave Boat Tour begins with a leisurely stroll in the valley as your guide shares the tale of the blue hole and disappearing Civil War soldiers.  When you arrive at the massive cave entrance, prepare to board Kentucky's only underground boat tour. Duck your head for just a moment as you glide under the famous wishing rock. Touch the cool limestone ceiling before the passage opens into a cathedral-like cavern.   Plan to spend about 45 minutes to an hour on this two-part tour.  For more information call 270 393-0077